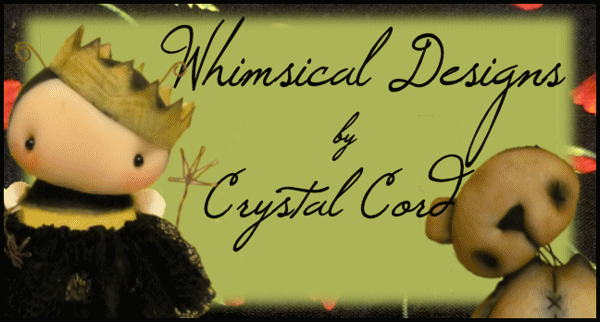 Whimsy by Crystal
---
"Beatrice Sewing Bee"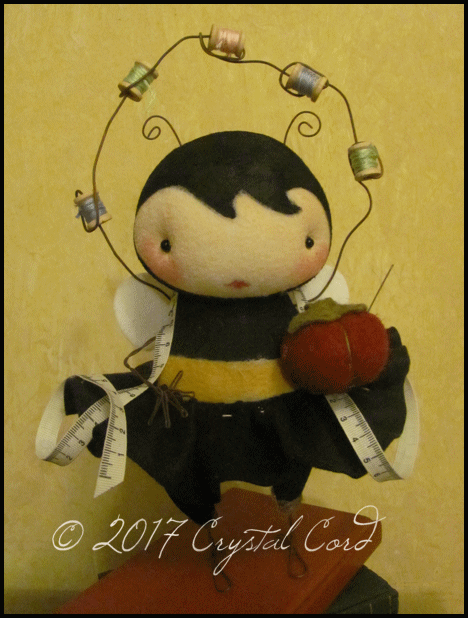 All hail the Queen of sewing "Beatrice"
Beatrice is made from soft fabric and hand painted. She has rusty wire arms, legs and glass bead eyes. She is wearing a black wool felt skirt. Beatrice holds a little wool felt tomato pin cushion. She has ribbon measuring tape draped around her. Little wooden spools float around her with rusty wire.
"Beatrice Sewing Bee" measures 10" tall. See more pictures in slideshow below.
© 2017 Crystal Cord - not intended for children
Beatrice is $40 plus $6.85 USPS Priority Shipping to the USA SOLD!
International shipping please e-maIl me for shipping rates
To Purchase, email me at SomethingWhimsy@comcast.net
~~~~~~~~~~~~~~~~~~~~~~~~~~~~~~~~~~~~~~~~~~~~~~~~~~
"Let's Party" Moonshiner "Jeb"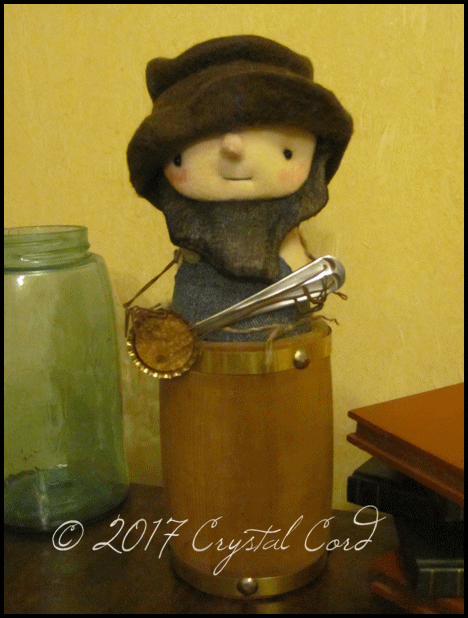 Jeb is made of soft fabric and hand painted. He has rusty wire arms and glass bead eyes. Blue jean overalls, brown wool felt hat. He holds his little banjo, which is made from a bottle cap and rusty wire strings. :)
Jeb is nestled in a wooden barrel and measures 11 inches tall
© 2017 Crystal Cord - not intended for children
Jeb is $40 plus $6.85 USPS Priority shipping to the USA
International shipping please e-maIl me for shipping rates
To Purchase, email me at SomethingWhimsy@comcast.net
---