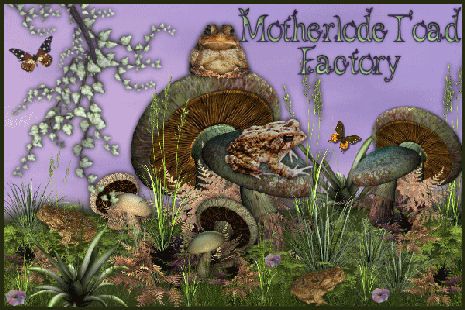 Motherlode Toad Factory
---
Calvin Crow and His Three Ears of Sculpted Corn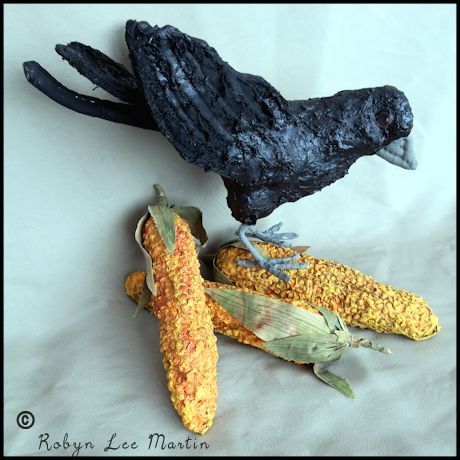 Calvin Crow thinks this is his luckiest day ever! He just found these three ears of incredible corn. Now to figure how to get them all home.
Calvin Crow measures approximately: ten inches long and six inches tall. He is made of muslin that is stuffed and thread sculpted. Then textured with paper mache clay. And painted with acrylic artists paints. He has glass eyes and wired feet. He is not permanently attached to the corn and can stand alone
The three ears of corn are made of sculpted paper mache clay and painted. They have husks made of hand painted muslin. One large ear is flat on the back and two smaller ones are completely round. They are 2 smaller, approximately nine inches long and two inches wide, and 1 large that is also nine inches long and two and a half inches wide at the widest part.
Price is $68.00 + $15.00 Shipping inside continental USA
For shipping elsewhere, please e-mail me at motherlodetoad@volcano.net
~~~~~~~~~~~~~~~~~~~~~~~~~~~~~~~~~~~~~~~~~~~~~~~~~~
Bonnie, Billy, and Baby Betty Soft Sculpture Bluebirds
It's Ladies Night out in the Madrone Forest and Daddy Barry Bluebird is going to baby sit all their birdies. All the baby birds are sleeping except Betty. She ate too many Caterpillars this afternoon and has a tummy ache. Mom has decided to give Betty a piggy-back ride to calm her! This can not end well! Mommy bluebird will not be gone long and Daddy Billy will have his hands full as long as she is gone.
The soft sculpture bluebirds all have glass eyes and the adult birds have wired legs and feet. They are textured with paper mache clay and painted with acrylic paints. They stand approximately 7" Tall. Baby Betty is permanently attached to Mom Bonnie's back.
Additional photos of Ralph are in the slide-show below.
Price is $ 48.00 + 14.00 Shipping Shipping inside continental USA
For shipping elsewhere, please e-mail me at motherlodetoad@volcano.net
---