Artist's Bio - Deborah Brown of Moon Belly Studios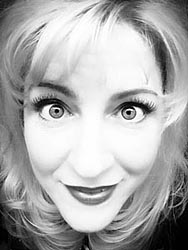 A Southern California native, self taught artist Deborah Brown has had much to be thankful for in her exposure to galleries and museums so close to home as well as both current and alumni internet Pfatt sisters.
Once known as The Laughing Doll years and years ago, Deborah now goes by Moon Belly Studio, but still makes the same singular creations influenced by her love of making human and animal creations, always unusual.
Like many artists, what Deborah creates is influenced by her moods and what's going on in life at the moment. It may be an art doll or mask or painting you see and each piece is always made with wonderment, even if melancholy, with an eye toward stirring the spirit to feel something.