Artist's Bio - Mila Nabieva of Mila's Teddy Bears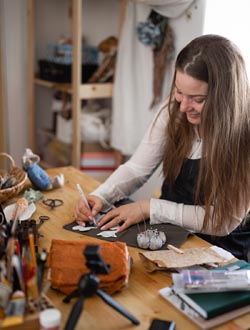 Hello, my name is Mila, I really love the forest and dream a lot. I started creating collectible toys over 5 years ago. The figures that I create are inhabitants of the magic forest. All of my collectible toys are original designs created by me.
It is very important for me to create my work using high-quality and environmentally friendly materials. I sew each toy by hand, without using a sewing machine. The materials that I use in my work are made in Germany, Italy and France. I use my own stuffing technique with the use of various sawdust, wool, and granulate. This allows the toys to be alive and gives them a feeling of heaviness in the hand. And they can occupy different positions. I tint toys with oil paints and watercolors. I fix paints on fabrics using my own technique. I like to give my work a vintage look. So toys become alive and real.
~ Mila Nabieva