Artist's Bio - Ellie Gee of Macabre Webs
"Growing older is mandatory … growing up is optional!"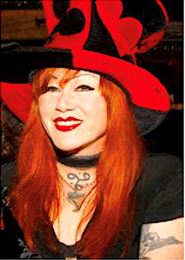 I have been an artist my entire life, since picking up my first crayon at a wee age. These days, crayons have been replaced by polymer clay, acrylic paints, papier mache, and digital photography. Never having had any interest in mediocrity, my influences during my formative years were honed by healthy doses of The Munsters, Famous Monsters of Film Land and MAD magazines, the work of Charles Addams, Edward Gorey, "Rat Fink" hotrods, rock n' roll, and of course, plenty of Ray Bradbury – all of which nourished my inquisitive grey matter.
I creates what I call "Odd Kin" – eccentric, colorful characters of capriciousness with a focus on Halloween (my favorite holiday), with a particular fondness for the vintage early 20th century variety: think big rustic Jack O' lanterns, craggy, haggy witches, black cats and the like.
Everything I make comes from that place deep in the soul of my inner child, which refuses to grow up. Life is full of magic; we need only to keep our eyes and heart open to see it. And art is a way for me to make it continuously happen!
I have worked in various areas of publishing, advertising and PR in my native Los Angeles. I am now retired, and a full-time artist in the Nashville area, living with my very understanding and patient husband Mark, and my cats Loki, Lily, and Igritte.
I am also the creator of MONSTERS & MERRIMENT, a dynamic mixed media Halloween folk art show each September in Nashville. This extravaganza features some of the most amazing original hand-made artistry from local artists (including some of her own). Please stop by and say hello, I'd love to meet you!
~ Ellie Gee