---
FrankenBunny!
A bolt of lightning flashes across the midnight sky… suddenly, amid the broken, leftover Easter eggs and chocolate candy wrappers, a figure looms … and arises… it's FrankenBunny!
FrankenBunny may have missed Easter, but he's sure ready for Halloween! Around his shoulder is a dirty old napsack, still carrying some moldering eggs, and surrounding him are a few more cracked rotten eggs. He pays no heed, he just smiles and moseys along, clutching his precious carrots.
FrankenBunny is a resin sculpture, painted with many layers of acrylic paints in ghoulishly delightful colors worthy of the maddest of scientist's monsters to ever walk the earth. His big bloodshot eyes glow in the dark, too!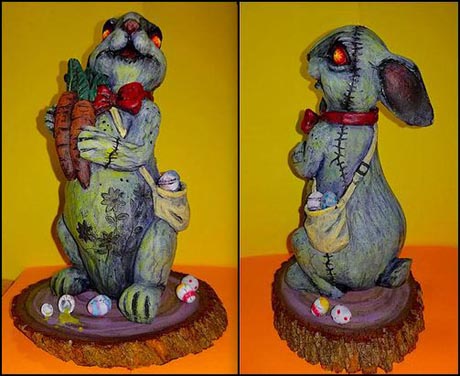 FrankenBunny stands 10" tall, 7" wide, and is mounted on a plank of live-edge wood. He would make a splendid addition to your Halloween collection!
FrankenBunny is available for $70 plus $10.00 SOLD!
Priority shipping within the continental USA (Ships within 2 business days)
For shipping info outside the USA, please e-mail me.
~~~~~~~~~~~~~~~~~~~~~~~~~~~~~~~~~~~~~~~~~~~~
Thanks for visiting!
~~~~~~~~~~~~~~~~~~~~~~~~~~~~~~~~~~~~~~~~~~~~
---