Angela Milano-Hillstrom
---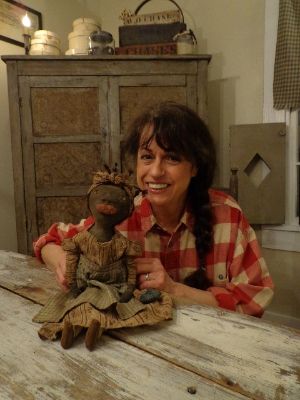 A little bit about me...
At this point my life has become quite simple. It revolves around my family, friends and my Work. I am so fortunate to be able to be successful at what I love to do...it is my passion! Most importantly, what I do is from my heart! I use my feelings and imagination to connect with you AND you feel that too!!! We form a bond and I could not ask for more!!!
My inspiration for making dolls started with an early rag doll, a gift from a dear friend. I wanted to recreate the feel of this old well-loved and tattered doll…well almost 20 years later…here I am. Many trials, frustrations, mistakes and disappointments…but as we all do…we just keep on going and find our place….we mature with the art, it will always be a journey for me!
I am honored to have been chosen for the Directory Of Traditional American Crafts through Early American Life magazine for 2009, 2010, 2011, 2012, 2013, 2014, 2015 and 2016.
~ Angela Milano-Hillstrom
---
Here's my offering for the PFATT Marketplace!
"Tess"
Rear View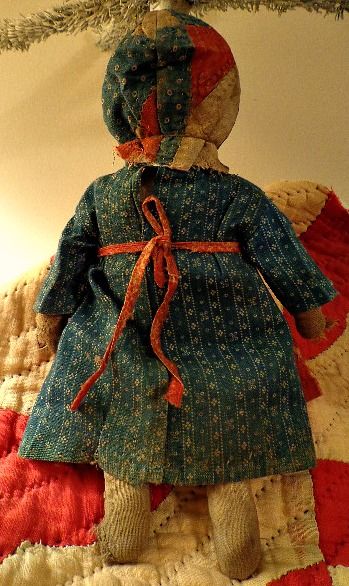 Close up
Legs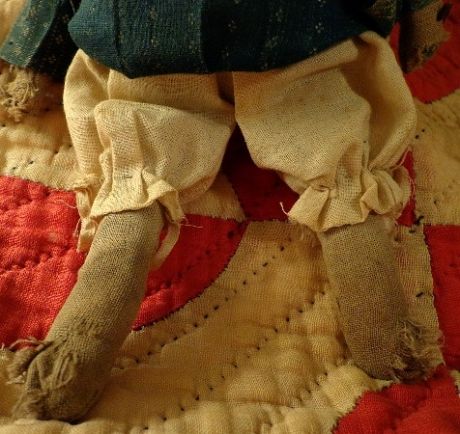 Tess is a hand sewn rag doll…stitched from early cloth, she measures 9" tall. Her frock is an early blue calico. Her apron is hand stitched from early faded turkey red calico and blue cotton. She has 1800's cotton long "drawers".
Her bonnet is stitched from an antique quilt piece, trimmed with a 19thCentury star calico. Tess has a very sweet penciled face and raw wool hair, a tiny rusty heart dangles from her apron.
Signed and dated and one of a kind.
Price $149.00 includes USA priority shipping. SOLD! To Purchase, please e-mail me at OlderaggsUSA@aol.com
---
Here are some examples of my past works