---
Rag Stuffed Primitive Strawberries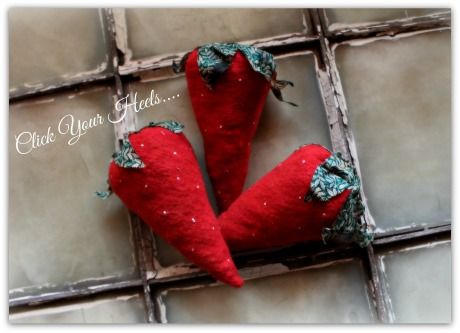 Each Primitive Strawberry is rag stuffed to give them a heavy feel. They have each been sewn and stitched from a pretty red soft fabric. I have painted tiny white seeds on each berry. I have added some aged green print fabric for there stems.
Primitive Strawberries are $4.00 each (I have several) plus shipping in the US.
Please e-mail me at 2tak1958@att.net to purchase
~~~~~~~~~~~~~~~~~~~~~~~~~~~~~~~~~~~~~~
Primitive Abraham Lincoln
This month i offer Abraham Lincoln with the Gettysburg Address in his hand. His suit has been made from real suit fabric that has to be dry cleaned. He comes with sewn on silver buttons on his vest and his black boots have been stitched laces. He sports a long black coat. I have attached him to an aged white wood base. He holds an aged American flag and a paper copy of the Gettysburg address.
Primitive Abraham Lincoln measures 21" tall
Kindly asking $70.00 plus shipping in the US. SOLD!
Please e-mail me at 2tak1958@att.net to purchase
---