---
Gingerbread Man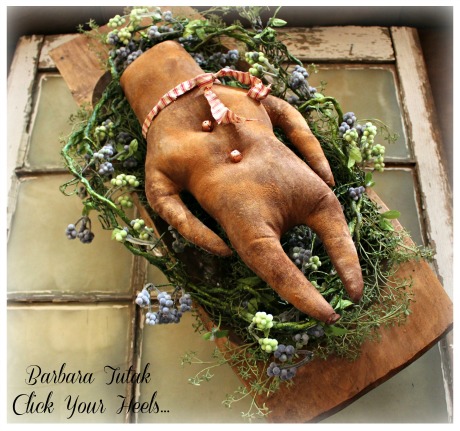 Gingerbread Man.... Made from painted and aged fabric. Large size Ginger to fit in your large dough bowl and to display in your kitchen. I have used aged red ticking fabric for his ribbon around his neck and I have stitched on copper jingle bells for his buttons. He has been dusted with cinnamon so he smells like he just came out of the oven!/p>
Gingerbread Man is 17 " tall.
Kindly asking $39.00 plus shipping.
Please e-mail me at 2tak1958@att.net to purchase
~~~~~~~~~~~~~~~~~~~~~~~~~~~~~~~~~~~~~~
Naughty Santa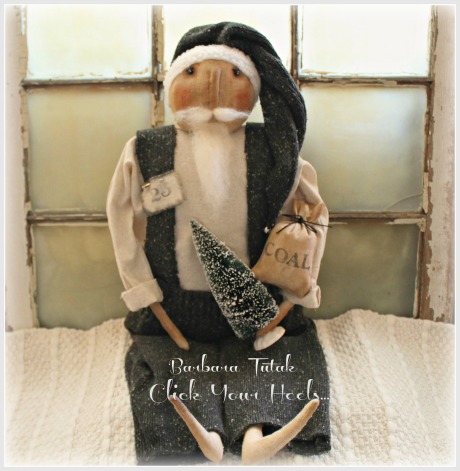 Well as you know not everyone is good all year long and looks like this Santa is loading up on the coal! He is a very large Santa and I have made his pants from an old black tweed thrift shop sweater. Osnaburg shirt. He has in his arms a muslin bag stamped with the words COAL on it. I have also added a large green sisal tree in his arms. He has a tag thats pinned to his suspenders that reads 25 on it. Alpaca wool used for his beard. Hand stitched face features. Santa can hang or sit.
measures 29" tall
Kindly asking $79.00 plus shipping in the US.
Please e-mail me at 2tak1958@att.net to purchase
---