Artist's Bio - Patti Cornell of Cattail Creek Boutique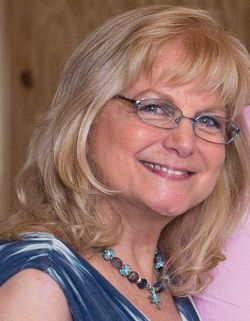 I've had a long love-affair with jewelry for decades! Throughout my work career I found it brightens up your face, complements outfits, can make a statement, and who doesn't like admiring a pretty bracelet on your wrist? I've been creating jewelry for 20+ years, pottery for 6+ years and have taken many classes. Something about putting your hands in soft clay that wakes creative juices! I enjoy hand building, hand painting glazes and firing my own pottery pieces from stoneware and porcelain, even making some of my own pendants and beads. I call it "wearable pottery"! These are fired to over 2000 degrees F. in my kiln.
I'm from the Hampton Roads area of Virginia and love the blues and greens of the ocean and lakes so you'll see a lot of those colors in my work. I use a signature small leaf on my pottery pieces as a reminder to embrace nature and follow your passions! Flora and fauna inspire my designs so you will see cats, dragonflies, bees, leaves and vines in my work. I live in Gainesville, VA with my significant other and Oriental Shorthair and Siamese cats, who make me laugh every day! I hope you enjoy my offerings!
My work has been featured in numerous magazines in the U.S. and abroad, and has been featured 3 times on the cover of Prims Magazine. I was selected as one of the top 100 craftsmen in America from 2007-2013, by Early American Life magazine. I was also nominated in 2008-2010 for a TOBY(Teddy Bear of the Year) award by Teddy Bear & Friends magazine.
And thank you for stopping by my PFATT Marketplace page where you can find handcrafted jewelry and hand built pottery!
~ Patti Cornell