Bittersweet Pastimes
---
All You Need Is LOVE and a BUNNY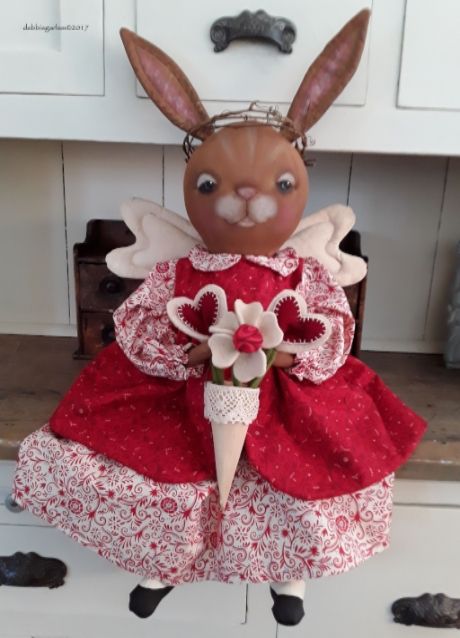 Happy February and Welcome to my page on the pfattmarketplace.com! This month I have a new Angel Bunny for you! She is a love Bunny, but she's not made specifically for Valentine's Day but rather for a reminder that we all have the capacity to love, and I believe that we can't survive without it!
Angel Bunny is made from painted and stained muslin. She has a somewhat chubby body that allows her to have a fuller dress. Her dress is made from quilt shop quality fabrics. Her legs are painted in red and white stripes and her shoes are painted black. She wears polka dot pantaloons. Her wings are made from a quilted fabric that I stuffed, added some primitive quilting then I painted and stained them. Her cone was made from the same fabric as the wings and also painted and stained. I added some vintage lace to it. Inside the cone are some flowers that I made from wool. Angel Bunny has a halo made from thin grape vine that I was able to bend together.
Angel Bunny is about 27" tall. She can hang by the loop sewn to her back but she sits nicely as well.
Angel Bunny is an original, one-of-a-kind design. She will come to you signed and dated by me.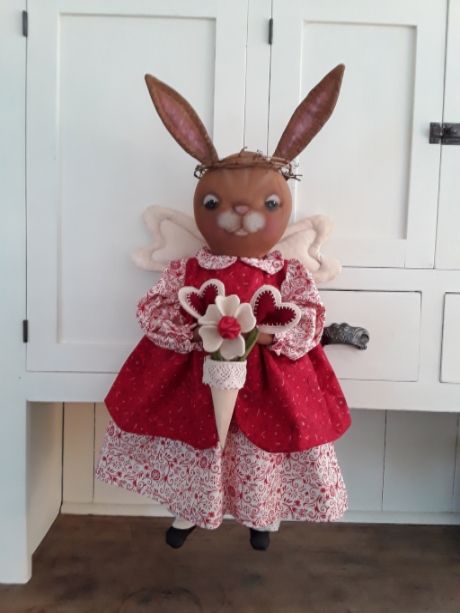 $110 Plus $10 UPS shipping with insurance included in the US 48 States.
To purchase, please e-mail me at debbiegarlem@gmail.com
~~~~~~~~~~~~~~~~~~~~~~~~~~~~~~~~~~~~~~
If you have any questions, please don't hesitate to email me at debbiegarlem@gmail.com
Always-Debbie
---