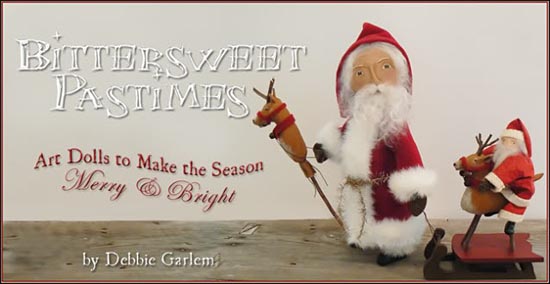 Bittersweet Pastimes
---
"Remembering 9/11 Santa"
Remembering 9/11 Santa is designed in remembrance of that horrific and heroic day in 2001, which we will never forget. He is made from painted muslin with detailed facial features. He wears a handmade, wool appliqué cape attached to his red wool suite. Underneath his red wool coat, Santa wears matching wool trousers, vest and a cotton shirt. His boots are made from clay and his mittens are navy blue wool.
Santa is proudly holding a hand painted flag and a little house that I painted like an "NYPD" police station. From clay and wood, I have made 3 little policemen, and 2 little firemen. I painted the little fire truck as well as the hinged lid box. Inside the box is a little wool bag made for storing the little people.
Measurements: Santa stands approximately 22½" tall including his base.
"Remembering 9/11 Santa" is a one of a kind original piece and will come to you signed and dated by me.
"Remembering 9/11 Santa" is $165.00 plus $10 Shipping if you live
east of the Mississippi River and $20 shipping west of the Mississippi. SOLD!
To Purchase, please e-mail me at debbiegarlem@gmail.com
~~~~~~~~~~~~~~~~~~~~~~~~~~~~~~~~~~~~~~
Please email me @ debbiegarlem@gmail.com with any questions.
Thank you for viewing my special creation for the PFATT Marketplace. If you have any questions, please don't hesitate to email me!
~~~~~~~~~~~~~~~~~~~~~~~~~~~~~~~~~~~~~~
---