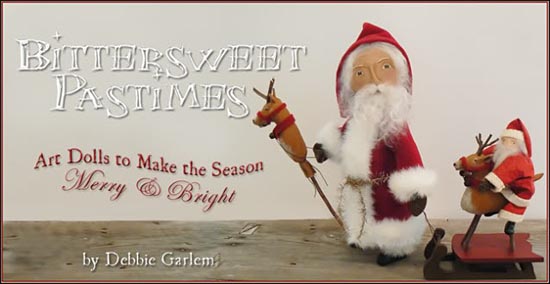 Bittersweet Pastimes
---
"NOVEMBER 2019 SANTA'S"
Welcome to my page on the PfattMarketplace.com! This month I have my last two stand-up Santa's for 2019. Like last month, I have a red coat Santa that I've been calling "A Merry Little Christmas Santa" and a white coat Santa that I'm calling "Winter Wonderland Santa".
My Santa's are made from painted muslin with doweled legs and wired arms. Their faces are created by using needle sculpting and detailed painting. Each Santa has sheep's wool sewn in place for their hair, mustache and beards. They are securely attached to a painted wood base. They are wearing cotton shirts, wool vests, mittens, trousers and long coats. My dolls come to you signed and dated.
"A Merry Little Christmas Santa" SOLD!
"A Merry Little Christmas Santa" has both arms full of goodies including a hand painted Santa in an adorable primitive basket full of greenery. Hanging down the front of the basket is a little charm that reads "have yourself a merry little Christmas". He also has a little primitive tree, a vintage putz barn, little sheep ornaments and a rusty key hanging from his belt. Santa also has a little sheep I made from wool riding on a wooden sled.
"Winter Wonderland Santa" SOLD!
"Winter Wonderland Santa" has his arms full of goodies, as well. He carries a little primitive tree and basket. His basket is full of greens and a little painted snowman. The little charm hanging from his basket reads "it's the most wonderful time of the year". He also holds a little white putz church, metal ice skates, a little sled and wool mittens.
Measurements: Approximately 21" tall to the tip of their hoods.
"November 2019 Santa's" are One-Of-A-Kind original pieces
and will come to you signed and dated by me.
"November 2019 Santa's" are $149.00 each plus $15.00 for shipping SOLD!
east of the Mississippi River and $25 shipping west of the Mississippi.
To Purchase, please e-mail me at debbiegarlem@gmail.com
---