Bears, Hares, and Dolls by Connie Hindmarsh
---
Mystery Treasure Box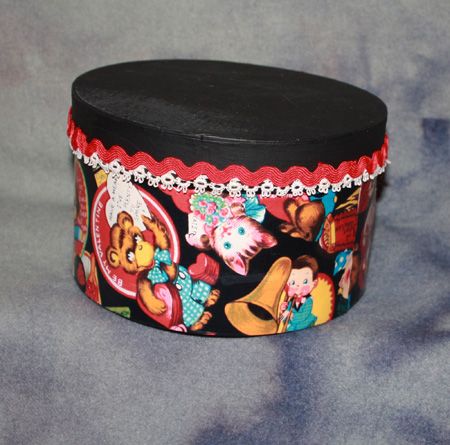 This pretty box is embellished with retro Valentines from the 40's and 50's.
Could there be a treasure in this box? A mystery, for sure!
Mystery Solved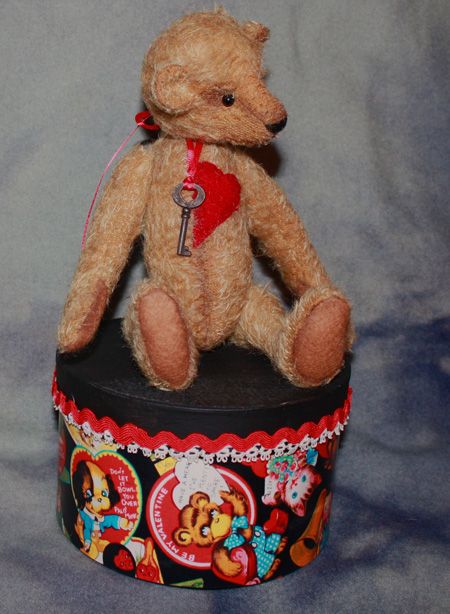 The box is home to this adorable 12" Teddy Bear. It's a squeeze for Teddy to fit into the box and prefers to pose on top for all to see. He is made from mohair and is fully jointed. He would be loved all year long but for now is a delightful Valentine.
Teddy and his treasure box are available for $75 plus shipping. SOLD!
To purchase, e-mail me at cbhindmarsh@cox.net
~~~~~~~~~~~~~~~~~~~~~~~~~~~~~~~~~~~~~~~~
Vintage 1913 Volland Image Valentine Card & Hankie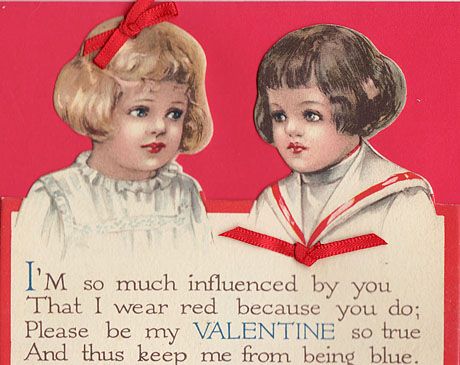 There's still time to send a special Valentine to a special person.
Here is a beautiful Valentine card made with an image from my personal collection of antique cards. This card is my favorite because of the beautiful images of both a girl and boy. The original card came with both children wearing an actual ribbon. In my reproduction, I have included ribbons, as well. A really beautiful brand new vintage design hankie is included. The card and hankie will come in a red envelope. I can directly mail this special card and hanky to your special Valentine.
Price is $15 plus shipping
To purchase, e-mail me at cbhindmarsh@cox.net
---