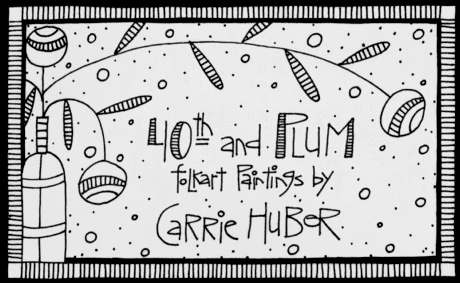 40th & Plum
---
Sunflower in Polka Dots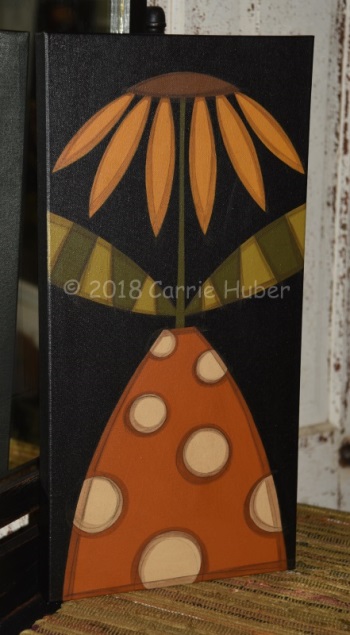 Here is a fun one on another thick canvas! Love the polka dots and great sunflower! This one is hanging right where I can see it as I paint in my studio - well at least until it goes to its new home at least. ;)
Measures 12" wide X 24" tall X 1½" deep
$87 includes shipping and handling in the continental US only.
(Please e-mail me for shipping info outside of the continental US)
~~~~~~~~~~~~~~~~~~~~~~~~~~~~~~~~~~~~~~~~~~~~
Four Top Board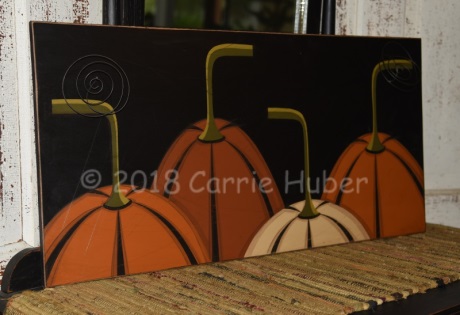 I was on a roll wasn't I!?! :) Truth be told it is quite the production line with these pumpkin paintings! Sketching then one color and then another and so on. Before I know it I am surrounded with half finished pumpkins and before I know it I have at least two days of painting just stems - It's fun though!
Measures: 30" wide X 14¾" tall.
$93 including shipping and handling in the continental US only. SOLD!
(Please e-mail me for shipping info outside of the continental US)
~~~~~~~~~~~~~~~~~~~~~~~~~~~~~~~~~~~~~~~~~~~~
Large Crow Arrangement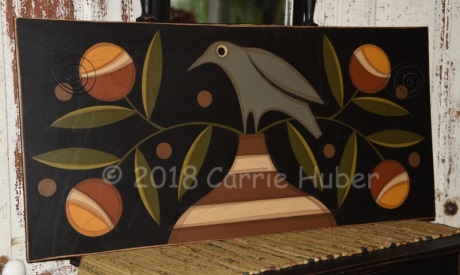 This statement painting is large enough to hang alone on your living room or dining room wall. I love the colors and the hint of fall in this piece. It's all warm and cozy - perfect for the cool days that are in our near future .
Measures 43¾" wide X 20" tall..
$140 including shipping and handling in the continental US only.
(Please e-mail me for shipping info outside of the continental US)
~~~~~~~~~~~~~~~~~~~~~~~~~~~~~~~~~~~~~~~~~~~~
All paintings are copyrighted hand created originals. Unless stated otherwise they are painted on wood panels and all creations are sanded and stained to give a warm antiqued look. Let me know if you have ANY questions – thank you for taking a look at my work! I am SO lucky to be able to do what I love and am happy to share my creations with you!
~~~~~~~~~~~~~~~~~~~~~~~~~~~~~~~~~~~~~~~~~~~~
---