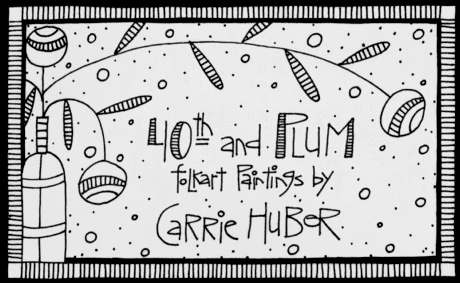 40th & Plum
---
Table Leaf Arrangement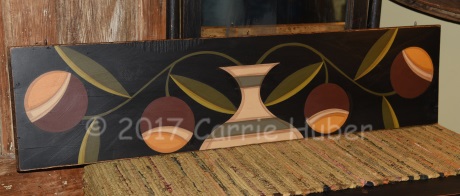 A good friend rescued these fun old table leaf inserts and every once in a while I'll paint one. I have been in the mood for floral arrangements and I thought the long shape would be great for a flowing arrangement! This piece is hung with little hooks in the back as I just can't take my drill to it – ha! Warm cream, yellow and burgundy tones are the perfect touch this time of year. I love how this one turned out!
Measures 42" wide X 10" tall.
$93 includes shipping and handling in the continental US only.
(Please e-mail me for shipping info outside of the continental US)
~~~~~~~~~~~~~~~~~~~~~~~~~~~~~~~~~~~~~~~~~~~~
All At Once

I painted this over a year ago and it is absolutely one of my favorite pieces that I have painted in quite some time. Perhaps that is why I have held on to it for a while. I just love the shape, the tones in the hearts and the flowers – the fun whimsy polka-dot hill ... I just love it all! What a fun piece to transition into spring though – I had to share it and make it available to you and send it off to its new home.
Measures 10" wide X 30" tall.
$75 includes shipping and handling in the continental US only.
(Please e-mail me for shipping info outside of the continental US)
~~~~~~~~~~~~~~~~~~~~~~~~~~~~~~~~~~~~~~~~~~~~
All paintings are copyrighted hand created originals. Unless stated otherwise they are painted on wood panels and all creations are sanded and stained to give a warm antiqued look. Let me know if you have ANY questions – thank you for taking a look at my work! I am SO lucky to be able to do what I love and am happy to share my creations with you!
~~~~~~~~~~~~~~~~~~~~~~~~~~~~~~~~~~~~~~~~~~~~
---