Our Featured Artist this Month:
Robyn Martin of Motherlode Toad Factory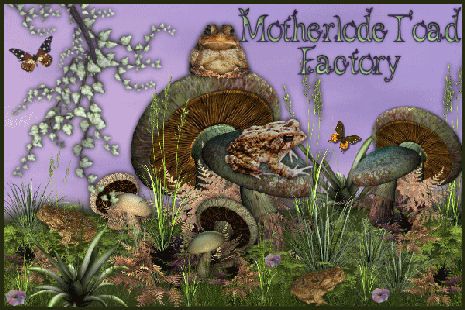 How did you get started in your craft?
I come from a long line of excentric and creative women. I have been creating and designing my entire life (actually 73 wonderful years!) I am totally self-taught. One of my favorite memories was getting a blue ribbon at the Los Angeles County Fair in 4th Grade for a finger painting. To top off the Blue Ribbon, someone actually bought the painting. I started painting murals professionally for an interior decorator in my early teens and was an enthusiastic, prolific painter in both oils and acrylics for several years. Once I achieved the wonderful title of "Granny" (nine times) in later years, I decided that ladders and Grannies do not mix very well and I retired from Mural Painting.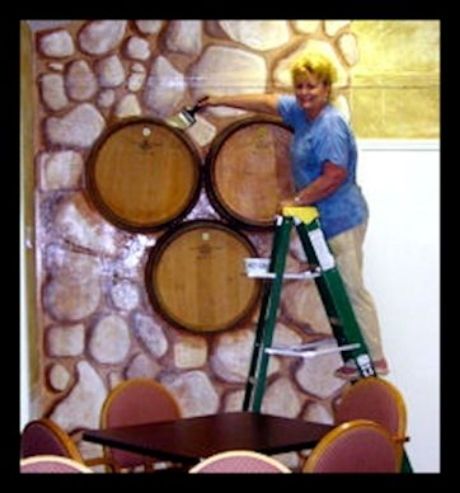 What are your inspirations?
I am completely and constantly inspired by Nature, Color, Laughter and Critters that fly, walk or swim (not things that slither!)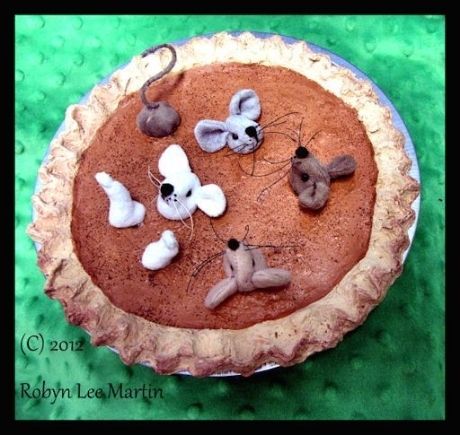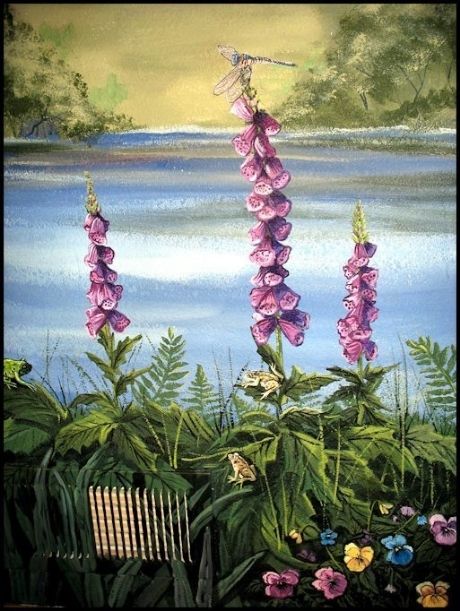 What are some of your favorite things?
I have always loved Paper Mache. I make my own secret mix and love getting into all the mush! I once Paper Mached my husbands entire Toyota Truck as a huge dinosaur for a parade that I rode on it's back! (We've been married for 54 years and he is a very patient and kind man!)Thanks to my seamstress Grandmother I also love fabrics. Currently I'm obsessed with making birds, mice and toads but next week--who knows?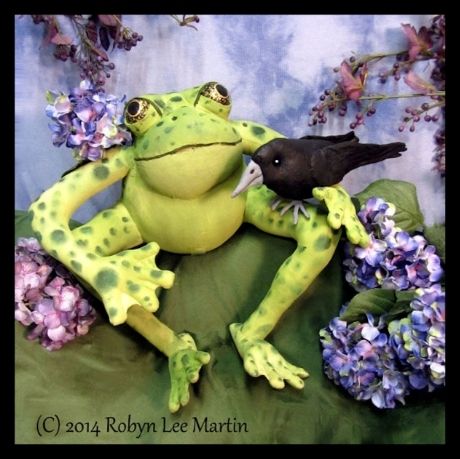 Email Robyn
Visit Motherlode Toad's Marketplace Page

~~~~~~~~~~~~~~~~~~~~~~~~~~~~~
~~~~~~~~~~~~~~~~
~~~~~~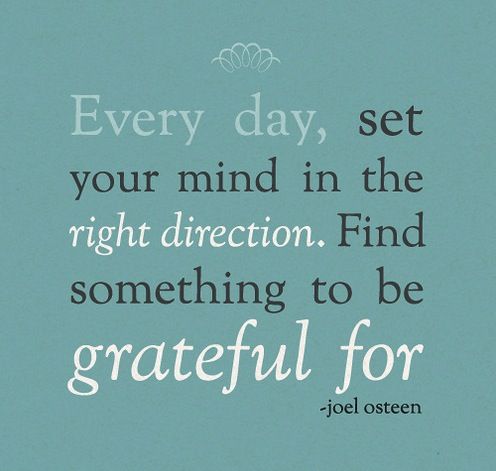 ~~~~~~


In memory of Lori Davis,
a beloved friend, talented artist, and longtime PFATT Group Leader.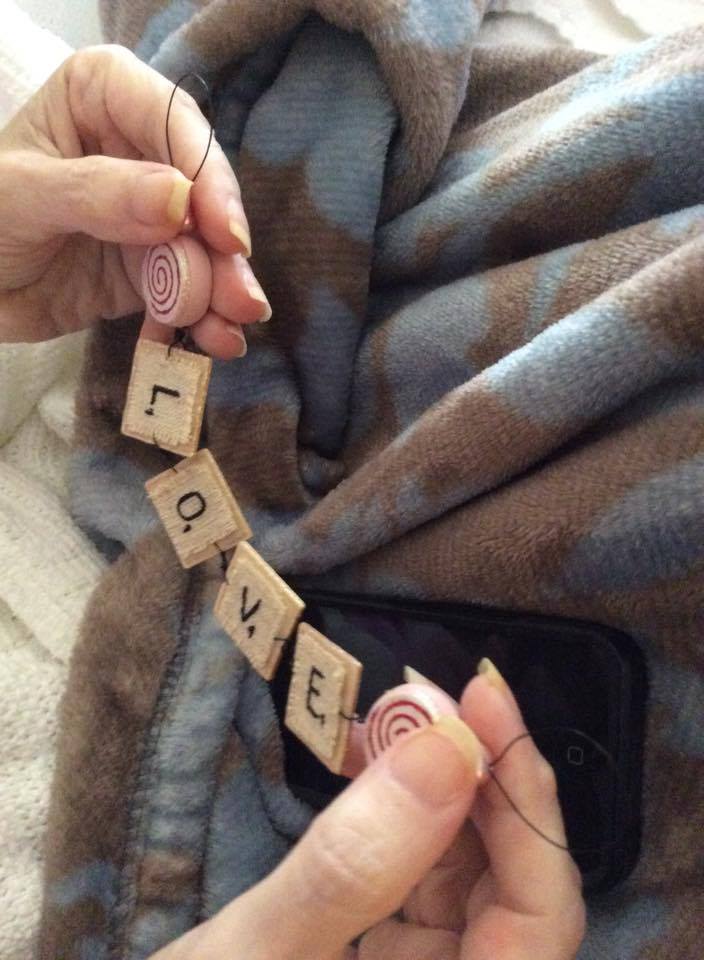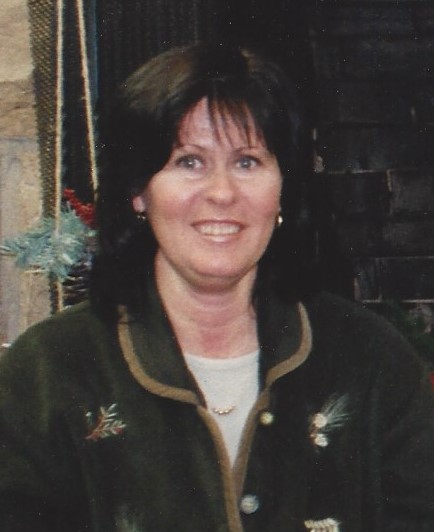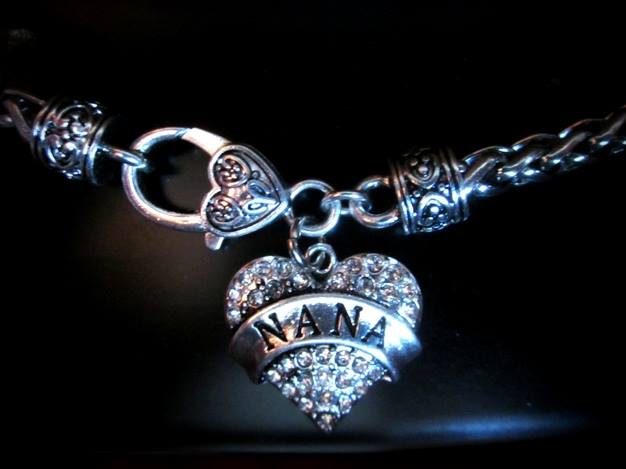 Lori lost her battle with cancer on December 15th of 2014, but leaves a legacy of creativity and sisterhood that will live forever.

An accomplished painter and mixed media artist, her whimsical, Vintage Palette Art creations delighted folk art collectors worldwide.
Active in several online art groups, Lori assumed leadership of the PFATT group in 2009. Under her guidance, the group flourished and grew, as she inspired and empowered many women to follow a creative path and to establish their own art based business.

We consider it a privilege to have known her, to call her friend and PFATT sister, and we extend our deepest condolences to her family.

Godspeed, Lori. You will be deeply missed.

~~~~~~
~~~
~
~~~~~~~~~
Please Note: If you are seeing last month's items, please hit 'refresh' on your browser and/or clear out your temporary internet files.
***If you are interested in a being a featured Guest Artist for a month and have unique art, please drop us a line @ pfattmarketplace@gmail.com***