Our Featured Artist this Month..
This Month's Featured Artist is
"New England Folk Artist
"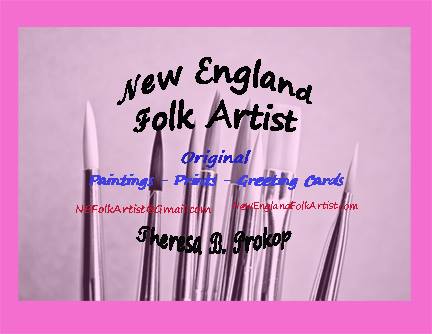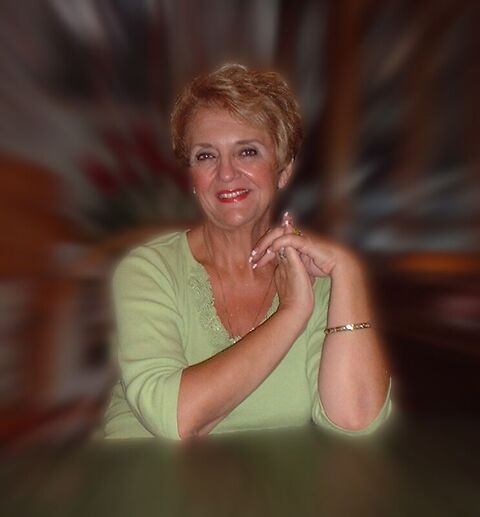 I am a self taught Folk Artist. Although I didn't have any formal training in painting techniques as a child, I painted on anything that didn't move or moved slow enough for me to keep up with it. I started winning awards in fourth grade. In later years my book report and other school project cover sheets received better grades than the material they held.

During my teen years in the '60s, I expressed myself by painting my sneakers, pocketbooks, jackets, and other personal items using big brushes wild designs and vivid colors. My friends marveled at my displays and I enjoyed the attention.

As I matured, my time for painting was limited by life's responsibilities. Although I did find some time for painting personal decorations for my home. I decided to experiment with painting and started with oil on velvet theorems, stenciling and painting porcelain dolls. Family and friends started showing up with items from their homes for me to paint and asking me to teach them. Word of mouth spread and I started to schedule classes to accommodate the people wishing to learn my style of design and painting. My parents opened a small arts and craft store in their home, and I began teaching decorative painting classes there. My father was retired and cut wooden pieces for my sister and I to paint. We began doing art and crafts shows throughout New England. I painted decorative furniture, canvas and just about anything and everything. I thoroughly enjoyed this and began to win many Best of Show awards and First Place awards. I began doing more and more shows with the help and encouragement from my sister, father and family. I continued teaching what I knew to others. For several years I did this while raising my family and still maintaining my job as a nursing staff coordinator at a local hospital. After retiring I returned to my love of Folk Art and started painting full time.

When Bob Ross came to a near by town, I took the "Joy of Painting" certification course. I finished the course taught by Bob, and have been a certified Bob Ross instructor since 1985. In the early years Bob Ross personally taught the three level three year certification classes for his instructors. Although I no longer paint this style, it was a "JOY" to learn and has added to my knowledge of painting. I am still listed in his monthly magazine as an instructor.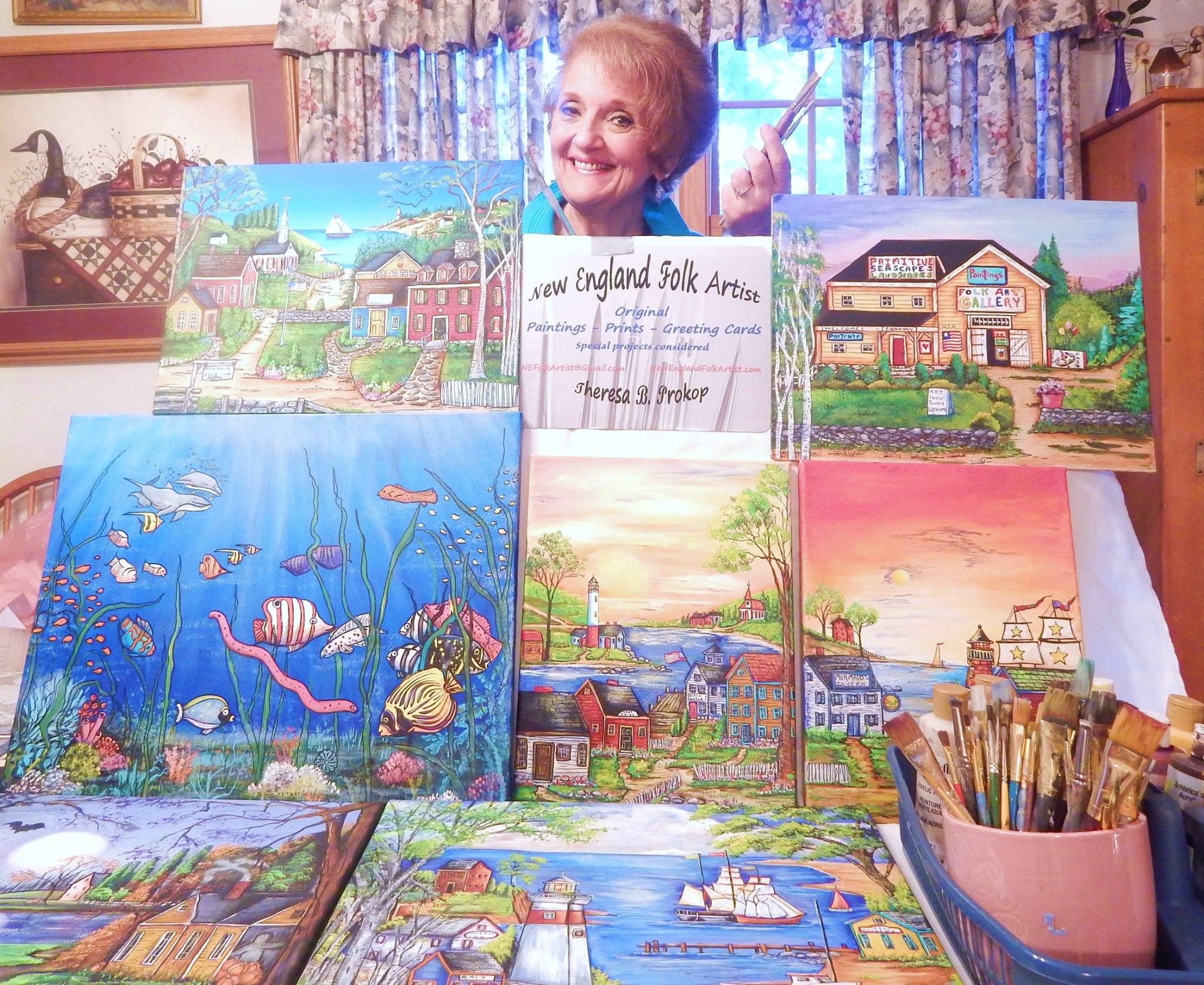 I began selling my paintings on eBay in 2000 and it has been a most phenomenal experience!
My original paintings have become increasingly evident of my own distinctive style and techniques. The subjects, locations and activities are guided purely by my faith, family, New England upbringing and my travels through our great country. I enjoy traveling through the Pennsylvania Amish country and often paint scenes of the Amish way of life. I paint with a smile in my heart, and try to capture the feelings and experiences of my life in my paintings. In my mind I travel to the fantasy world I am painting. Whether it is a turn of the century American village or the whimsical spooky Halloween I imagined I saw as a child.
My art tells a story that people of all ages can enjoy! Well known for my original paintings in classical, primitive and folk art designs, my art lives around the world. My artwork weaves an intricate tale like an old storyteller. It captures your attention, imagination and your heart. I enjoy painting America of yesteryear. My work is collected, treasured and enjoyed throughout the world., and has been collected by numerous folk art collectors, celebrated public figures and celebrities. My paintings hang in galleries, antique shops, historic houses, restaurants, office buildings. It is collected by other prominent folk artists and their families, It can be found in the homes of many eBay friends around the world including the homes of the rich and famous.
I have a beautiful new web site NewEnglandFolkArtist.com where I am selling my works and am now offering e patterns.
I have been published in Pixelated Palette E -zine several times and have more works that are scheduled to be published in the coming months .
I have several designs being published for 2016 in the Decorative Painting E zine .
My patterns are selling at Cupboard Distributors ,the Decorative Painting store and on my web site.
I am a memeber of the Deco Arts Helping Artists program.
I have begun a new adventure and am in the process of making painting instructional videos for PurelyAcrylics and which I am really enjoying! I hope you will look for my first one which is coming out this Spring at Purely Acrylics!
I am in the process of creating designs for the Artist Club magazine .
My art is available in my shop at ETSY.

I thank the many who have viewed my work, sent me e-mails and encouraged me. I hope you will continue to enjoy viewing and owning my work as much as I enjoy painting it for you.
I especially thank the thousands who have in the past 30 years purchased my original paintings and are letting a part of me live in their home.

Visit my website NewEnglandFolkArtist.com

Theresa B. Prokop
~~~~~~~~~~~~~~~~~~~~~~~~~~~~~
~~~~~~~~~~~~~~~~
~~~~~~
~~~~~~~~~
Please Note: If you are seeing last month's items, please hit 'refresh' on your browser and/or clear out your temporary internet files.
When a site goes live sometimes the old version still appears for a time. This is because the older version is still stored in the cache of either your computer (DNS) or your Internet Service Provider (ISP). The local computer cache can be reset, but should not be done so without full understanding of the process and implications of doing so. We can direct you through this process if you like, but fortunately, both this and the ISP types of caches clear themselves on a regular basis (though the intervals at which they do so will vary) so all you really need to do is wait.
Click on Tools in the top menu bar. Scroll down and select Internet Options. Click Delete under Browsing History. At the bottom, clickDelete All, or mark the items you wish to delete, such as Temporary Internet Files and History, then click Delete or Yes.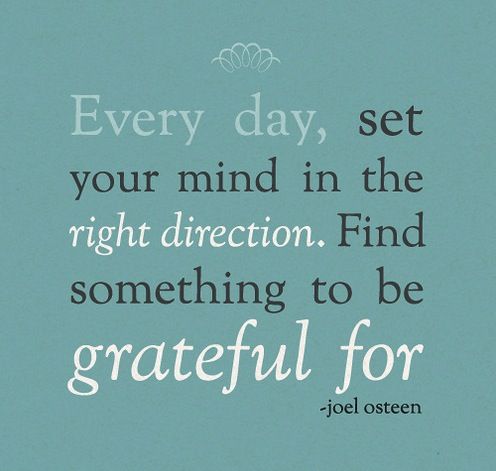 ***If you are interested in a being a featured Guest Artist for a month and have unique art, please drop us a line @ pfattmarketplace@gmail.com***