This Month's Featured Artist: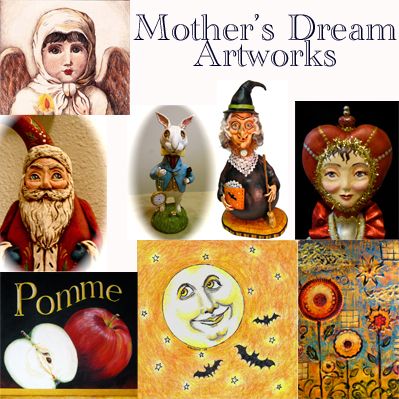 Sheryl Parsons of Mother's Dream Artworks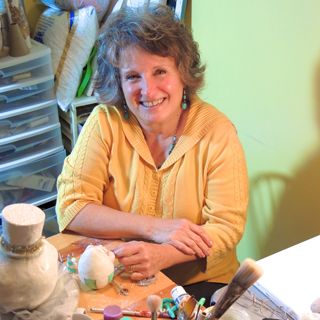 How did you get started in your craft?
My mother, my biggest mentor, would join me when I was a tiny girl sprawled out on the floor where she showed me how to use my crayons to shade and give depth to my coloring. Everything she did, from cooking to sewing, to home decorating was done with a flare. I would stand on a chair and watch as she threw a dash of this herb or that spice into a pot or bowl. We had a dream to have our own art shop some day, but she was never able to realize that dream. Mother's Dream Artworks was inspired by her. As a young stay at home mother I lived in North Pole, AK with my family for a time and wanted to have my own spending money. I started by tole painting my original designs on "mistakes" from chopping wood for our stove. From there I branched into paper mache and driftwood, and then a fellow artist sent me some gourds and challenged me to see what I could do with them. I've been creating Santa figures for 26 years in some form or fashion, when I could. I started creating year round holiday folk art about 6 years ago and have been doing it when I can since then. I also paint still life and abstracts, along with making jewelry. I really need a 48 hour day!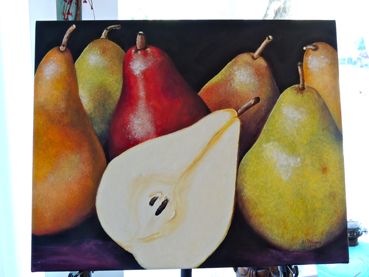 What are your inspirations?
An old photograph, childrens books, a shopping trip for fresh fruit, a country drive, the changing of the seasons, all are inspiration for what I do. I love to peruse magazines, especially older publications. I have a stack I refuse to give up, especially my BHG Santa Claus magazines. I like to use natural things such as driftwood, or gourds in my folk art, as well as repurposing items such as bottles or vintage things. I can take a look at something and see the hidden character they are waiting to become.
What are some of your favorite things?
Oh gee, I really love to find things that remind me of my mom, or my children. I have been on the hunt for specific vintage glass Christmas ornaments to replace family heirlooms that were lost as I want my children and grandchildren to have some as well. I love vintage doilies, buttons, Royal Ruby glassware, and Memory Lane stoneware, vintage jewelry and cookbooks. As far as things to do, I love to travel with my huband, especially when we are going to see the grandchildren. I love to go home to Oregon and sit in my recliner early in the morning with a cup of herbal tea and my scriptures. I have a view of the mountains that inspires me to get out and run, okay it's more of a slog, but I am moving. Then I am in the garden until it's too hot to be outside, so it's time for a shower and creativity. If my husband is around we will go fishing. At home he will play his dulcimer while I sculpt or paint or design jewelry. Family and friends are high on that list, as well as my responsibilities at church. I am fortunate to have a husband who supports me in my endeavors. He really puts up with a lot of piles of "stuff" when I am trying to meet a deadline, and will ask what he can do to help.
I am currently working on a series of nursery rhyme pieces that will be exclusive to the PFATT Marketplace. My first piece Humpty Dumpty's Birthday Party debuts this month, I am so thrilled to be a part of PFATT Marketplace. With all the talent you find here, that in and of itself is inspiration. I love what I do, and hope you will enjoy my work as well.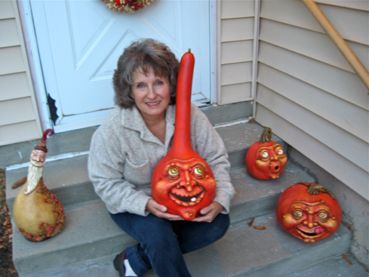 Visit Sheryl's Marketplace page
***If you are interested in a being a featured Guest Artist for a month and have unique art, please drop us a line @ pfattmarketplace@gmail.com***